It is my genuine delight to welcome you to Marist Sisters' College Woolwich (MSCW), a thriving educational and faith community situated in beautiful leafy grounds overlooking the Lane Cove River, just a few kilometres from the heart of Sydney.
Marist Sisters' College is an outstanding all-girls' secondary college informed by the Marist Sisters' tradition, originally established in Lyon, France. Founded in 1908, Marist Sisters' College has been educating young women to be 'Marist women of action' across the world for over 100 years. 
As principal, it is my privilege to lead and nurture such a strong learning and faith-centred community.  We are a community inspired by our recently refreshed vision: 'Developing a Compass for Life' for every girl. At the heart of this vision are four key dimensions, which engage our energies:
Formation of positive '

sisterly'

relationships, preparing girls to thrive in any community,

Identification of student

'gifts'

which are explored, refined and applied,

Leadership experiences and opportunities, which

'empower'

young women to be generous and proactive,

Fostering

'courage'

and tenacity in ethical discernment built on justice.
By nurturing curiosity and imagination, each girl develops her Marist Compass allowing her to be well equipped, to successfully navigate life and make a valuable contribution to a better community and world.
Graduates of Marist Sisters' College are highly regarded for their excellent academic performance, energetic participation in the arts, public speaking and a range of sports to representative level; capacity to build positive networks; and their community outreach ventures, both in Australia and overseas.
I invite you to journey through our website to gain a small glimpse of the vitality, adventures and happiness that abound in our Marist community – a community on the move.
Dr Anne Ireland
PhD, M. Ed (Leadership), M. Arts (Theological Studies), B Ed.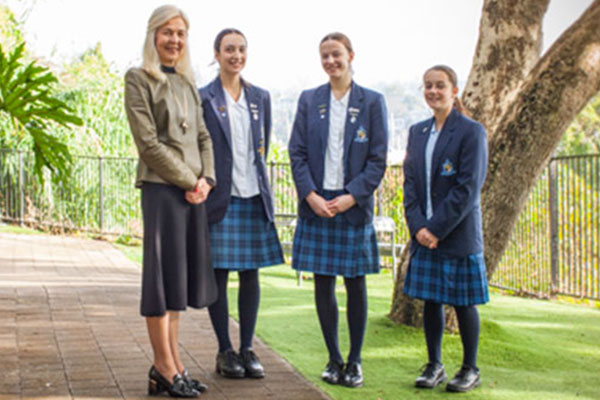 Proudly Part of the Community of Sydney Catholic Schools
Our school is part of a system of 147 low-fee Catholic schools in the Sydney Archdiocese.
Sydney Catholic Schools are thriving Catholic communities that ignite a love of Christ through excellent teaching and learning to empower students to reach their full potential.