We commit to providing safe and supportive environments which nurture the wellbeing of all students and staff in our community, and hold firmly to the belief that they have a right to be safe, respected and valued in an inclusive environment. We know that when students are happy, they are more engaged with their learning.
Schools benefit from wellbeing initiatives and pastoral care support through Sydney Catholic Schools – in areas such as anti-bullying, positive behaviour, student counselling, refugee support and child protection – which range from universal support for all students, to targeted interventions for students with complex social and emotional needs.
Our school has a comprehensive wellbeing program. Students move through a cycle of:
The Principal's Assembly

House Assemblies

Tutor Group time

Year-based wellbeing sessions.
House System and Tutor Groups
Each student in the college belongs to one of six houses and a tutor group within the house. Tutor groups are vertically streamed and have students from Year 7 to 12. Tutor groups are a little family within the college and each student stays with her tutor group each year.
Tutors and House coordinators are the primary contacts for any wellbeing matter facing a student. House coordinators case manage more serious matters in conjunction with the Leader of Wellbeing and the college's counsellors.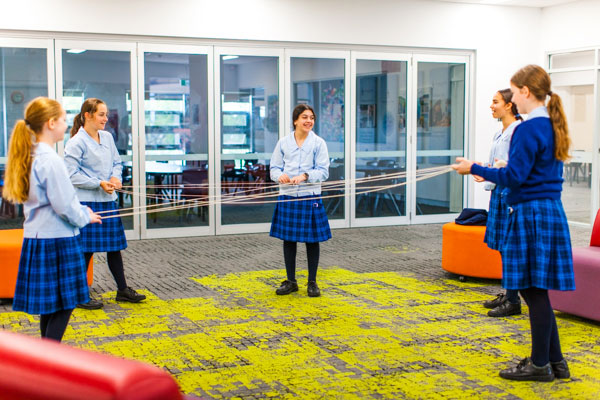 Evidence-Based Wellbeing Programs. We offer the following age-appropriate programs:
Year 7
Year 7 transition program

AMICA – 'Little friend' program with Year 10

Relationships – managing friends and cliques

Study skills

Self-care skills and resilience
Year 9
Goal setting

Emotional intelligence

Mindfulness

Managing relationships

Body image

Gender roles
Year 8
Friendships and relational aggression

Cyber-safety and social media

Anti-bullying strategies

Study skills – stress management
Year 10
What it's like being a teenager?

Self motivation

Anti-bullying strategies

Body image and cliques

Subject selection and post school pathways

Safe partying, sexting and the internet

Anxiety management

Resilience

Senior study skills
Sydney Catholic Schools reject all forms of bullying behaviours, including online (or cyber) bullying, by maintaining a commitment to providing safe, inclusive and respectful learning communities that promote student wellbeing for learning. Staff at Sydney Catholic Schools are committed to employing wellbeing strategies that allow for a healthy school environment where bullying is less likely to occur.
If your child is experiencing bullying of any kind, or you have a wellbeing concern, we have a number of support services available for parents/carers and students, as listed below.
Contact information for our school: 
Your house coordinator

School Counsellor: Click here 
Support services:
Parent Line NSW: 1300 1300 52

Family and Community Services Helpline: 133 627

NSW Health: (02) 9391 9000