Central to the religious life of the school is the person of Jesus Christ who came among us 'as one who serves' (Luke 22.27). Our Catholic school is committed to reaching out to help those in need, through charitable outreach initiatives. All outreach activities connect to the person of Jesus Christ and to the sacraments, especially the Eucharist. Drawing on the Catholic Social Teaching of the Church, we have a deep commitment to supporting a range of charitable organisations, families and individuals in need.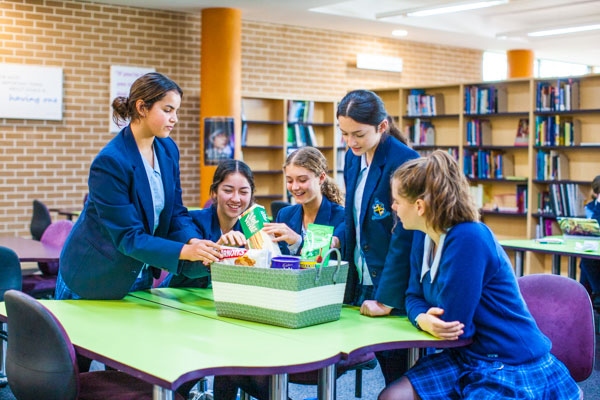 Our college provides a range of opportunities for students to engage with their faith through social justice initiatives. We support the wider Catholic Church through Caritas Australia, St Vincent de Paul and CatholicCare. Our support of Marist initiatives is through immersions and fundraising. Each year, excluding 2020 and 2021 due to pandemic restrictions, our students take up roles in the Sony Children's Holiday Camp.
Our students are invited to participate in Youth Ministry opportunities such as 'Marist In Action' meetings. These gatherings are pastoral, informative, active, prayerful and inspiring.
Our students also have the opportunity to be involved with Inter-School Youth Afternoons, to engage with fellow Marist schools and other schools in the Deanery. This involves discussion and problem-solving activities that seek to awaken in them a spirit to drive deeper Marist connections and to reflect on our Catholic faith.